Average Home Prices Compared: East Wilmette/Central School, the CAGE, East Sheridan Road and Wilmette - last 36 months
East Wilmette, which is bordered on the west by Green Bay Road and serviced by Central School, is one of the most prestigious areas in Wilmette. The median single family home price in this area, as of 8/18, was $1,100,000. The least expensive single family home to sell in Central School district in 2017 sold for $350,000. Land often sells for $100,000's more. The architecture is varied which adds to the charm of the area. Sweeping lawns, tree-lined streets, proximity to downtown Wilmette, the Metra station, the El Station, Plaza Del Lago and, of course the Beach, make this area of Wilmette a storied place to live.
Nearly all homes are within 1.5 miles of Lake Michigan and most children in the public school system attend Central School (there are a couple of blocks on the northern border serviced by Sears School in Kenilworth). Lot sizes vary tremendously but many are 60, 75 or more feet wide. Within East Wilmette are two highly sought after areas: the CAGE (Chestnut, Ave., Ashland Ave., Greenwood Ave., and Elmwood Ave., east of Green Bay Road to the Lake) which features brick paver roads, large expansive lots and stately homes and the area east of Sheridan Road which represents some of the best real estate in Illinois.
Homes directly on the Lake fetch millions and for good reason as Wilmette's lakefront homes typically have better lake access than those of its North Shore neighbors. It should be noted that sales along the Lake and in East Wilmette sometimes occur privately and will not show up in these statistics. We have access to all sold homes, however, and are happy to look up any data you may need.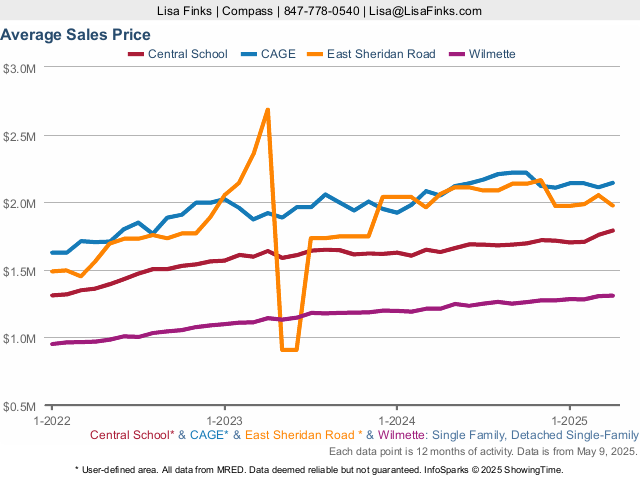 Months' Supply of SF Homes: East Wilmette/Central School, the CAGE, East Sheridan Road and Wilmette - last 36 months
Following supply and demand principles, both the CAGE and East Sheridan Road typically have the fewest homes available. A good rule of thumb is that 6 months supply is a balanced market. A lower than 6 month supply favors sellers (with less inventory from which buyers can choose) and a higher than 6 month supply favors Buyers with more inventory from which Buyers can choose. See the below chart for historic and current inventory levels.
New Construction in Central School area
A healthy amount of new construction exists in East Wilmette since the housing stock is among the oldest in the Village with many homes dating back to the late 1800's and early 1900's. Due to the larger-sized lots, many lots are suitable for building anew. Not as many new homes are built in the CAGE or east of Sheridan Road but they do happen. The exception would be along the lakefront where a fair number of new construction homes are in the process of being built. Again, many of these properties traded off-market and are not reflected in the below chart. If you need information about them, I am able to access that data for you. Last, it should be noted that a home in East Wilmette will cost $150,000-$200,000 more on account of its location relative to most other areas in the Village. It is less common to find a new construction home under $1,600,000.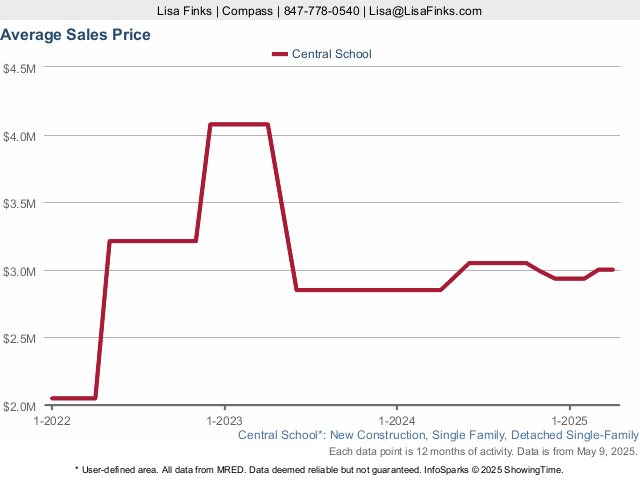 Distribution of Home Prices in Central School District
The below chart gives you an idea of the number of homes in each of the following Central School price brackets. Knowing the number of homes in your given price bracket can help estimate how much competition you may be up against (a bracket with fewer homes may face more buyers except in the case of ultra-luxury homes where fewer buyers organically exist).