Romona School Real Estate Statistics
The west part of town is perhaps the North Shore's hidden gem – not getting nearly the attention it deserves.  Most know that tremendous value is found on this side of town but residents don't give up a thing location-wise.  With Wilmette's Middle School and Junior High both located within Romona School boundaries, lucky families who choose to move west not only get more for their money but often get a "walk to school" location for K-8!  Additionally, the incredible Centennial Outdoor Pool complex, skating center and tennis center (which are hubs for gathering) are all within Romona's boundaries, as are the Community Playfields where soccer, lacrosse and a myriad of activities take place.  Living in Romona district provides excellent recreation options and an easy going lifestyle.  Last, easy access to the highway can shave at least 10 minutes off of your commute to the city by car.  Of course, easy access to Old Orchard mall is another nice benefit.  Homes east of Skokie command a much higher price with locations near the schools and playfields commanding the highest prices.
Average Single Family Home Prices in Romona School District for last 36 months: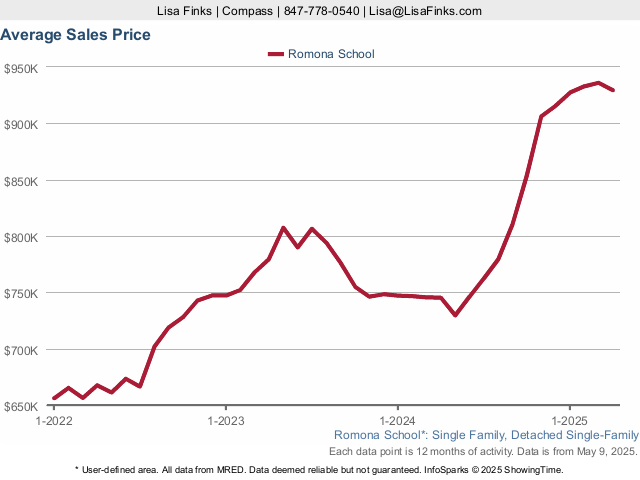 Months' Supply of SFH Homes For Sale in Romona District – last 36 months.
A good rule of thumb is that 6 months supply is a balanced market. A lower than 6 month supply favors sellers (with less inventory from which buyers can choose) and a higher than 6 month supply favors Buyers with more inventory from which Buyers can choose. See the below chart for historic and current inventory levels.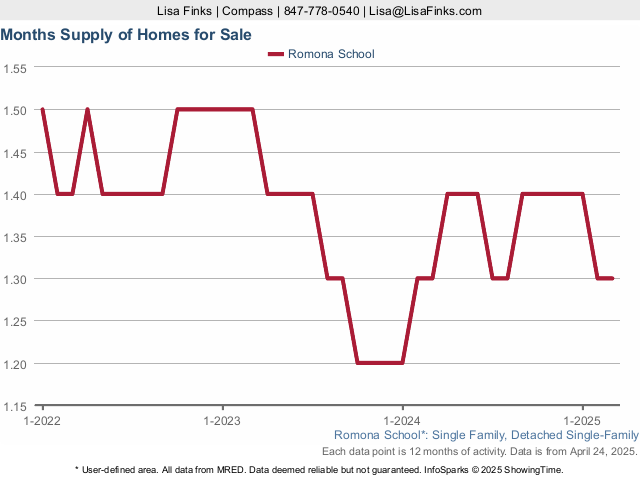 New Construction in Romona School area
A healthy amount of new construction exists in West Wilmette due to its lower land costs. In fact, a subdivision of eight new construction homes called Wilmette Circle was the first new one in many years.  It is possible to get a new construction home around $1M in West Wilmette but prices can go as high as $1.5M or even higher for some custom homes in the best locations.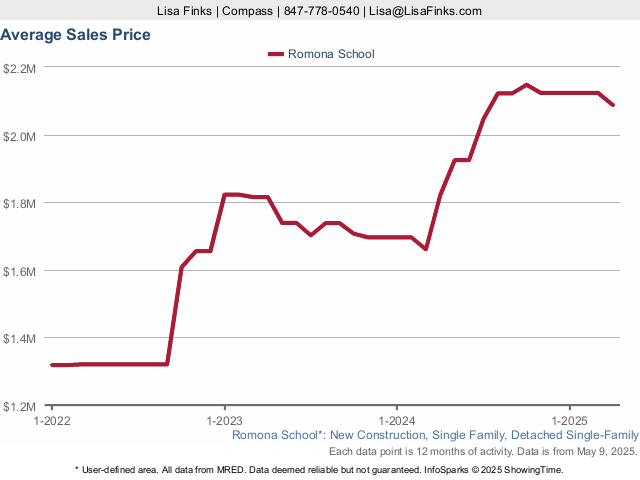 Distribution of Home Prices in Romona School District
The below chart gives you an idea of the number of homes in each of the following Romona School price brackets. Knowing the number of homes in your given price bracket can help estimate how much competition you may be up against (a bracket with fewer homes may face more buyers except in the case of ultra-luxury homes where fewer buyers organically exist).